We produce films with curiosity, ambition and confidence.
We are an advertising film production company founded in 1992, lead by Philipp Schmalriede and Juri Wiesner. We are proud to rank regularly among the top 10 of Germany's most creative production companies.
For us creativity comes first and is always a collective effort. That's why we work with an award-winning roster of directors and a handpicked selection of crew members. It's about tailoring our collective creativity and technical knowhow to the needs of our clients and so it's rewarding that Cobblestone has been ranked under the top 10 of Germany's most creative production companies over several years.
Our reel includes beautiful cinematic films, documentary-style spots that capture real-life emotion, great comedy and storytelling.
We have a reputation for nurturing directors, whether it's those we've worked closely with for a long time or new ones just starting out.
Additional to our investment in talent we have also made sure to expand our post-production capabilities. Four Avid-, three Nuke-, three Premiere / After Effects workstations form the framework of our in-house postproduction. The possibility of accompanying a project from pre- to post-production not only ensures full control, but also keeps expenses within the limits.
Besides our offices in Hamburg and Berlin, we operate across a global network with our long-lasting exclusive partners Social Club in Stockholm and Station Film based in New York and LA, which works fast and efficiently at responding to international production demands.
OFFICE HAMBURG
COBBLESTONE FILMPRODUKTION GMBH
NEUER PFERDEMARKT 1
20359 HAMBURG, GERMANY
T. +49 40 311 699 0
GLOBAL@COBBLESTONE.DE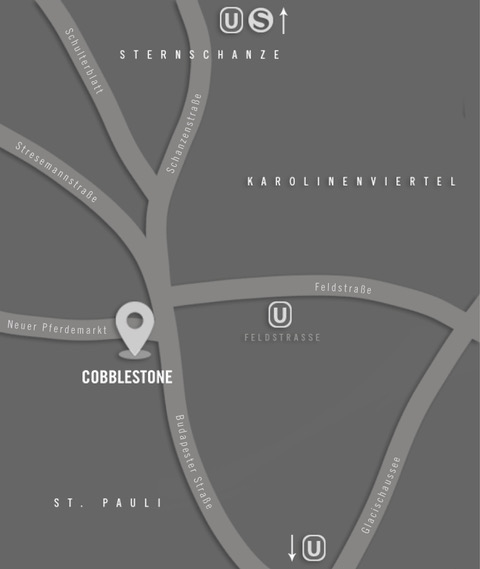 OFFICE BERLIN
COBBLESTONE FILMPRODUKTION GMBH
KARL-MARX-ALLEE 78
10243 BERLIN, GERMANY
T. +49 30 29 777 89 10
GLOBAL@COBBLESTONE.DE